Purely Pilates Studio
Why Choose Us?
What will Pilates at Purely do for me?
You'll begin to feel the benefits of a class with us from your first session. The classes consist of a series of strengthening and resistance exercises that will help increase your flexibility and strengthen your core. You'll start to notice the difference in your daily life as you move more easily, with better posture and muscular control that will give you better functional fitness for every day tasks.
Not only can Pilates help with your daily life but it reduces back pain and can help a variety of other injuries and specialist populations. Pilates can also help to reduce the risk of injury and can dramatically improve athletic performance.
And the thing we really love about Pilates at Purely is how it releases the stress and tensions of our clients everyday lives. You'll love coming into our beautiful and calm studios to spend time focusing on the correct way to breath and to ease away the strains of your day.
Injuries and specialist help
We have a wealth of experience working with people with specific injuries or conditions. It's what we do best. We work closely with physiotherapists, osteopaths, chiropractors and other health practitioners to ensure continuity of your care, and to get you moving and enjoying life again.
Here's an example of some of the conditions that Purely Pilates can help with:
Disc Issues
Arthritis
Osteoporosis
Multiple Sclerosis
Hip/Knee Replacements
Shoulder issues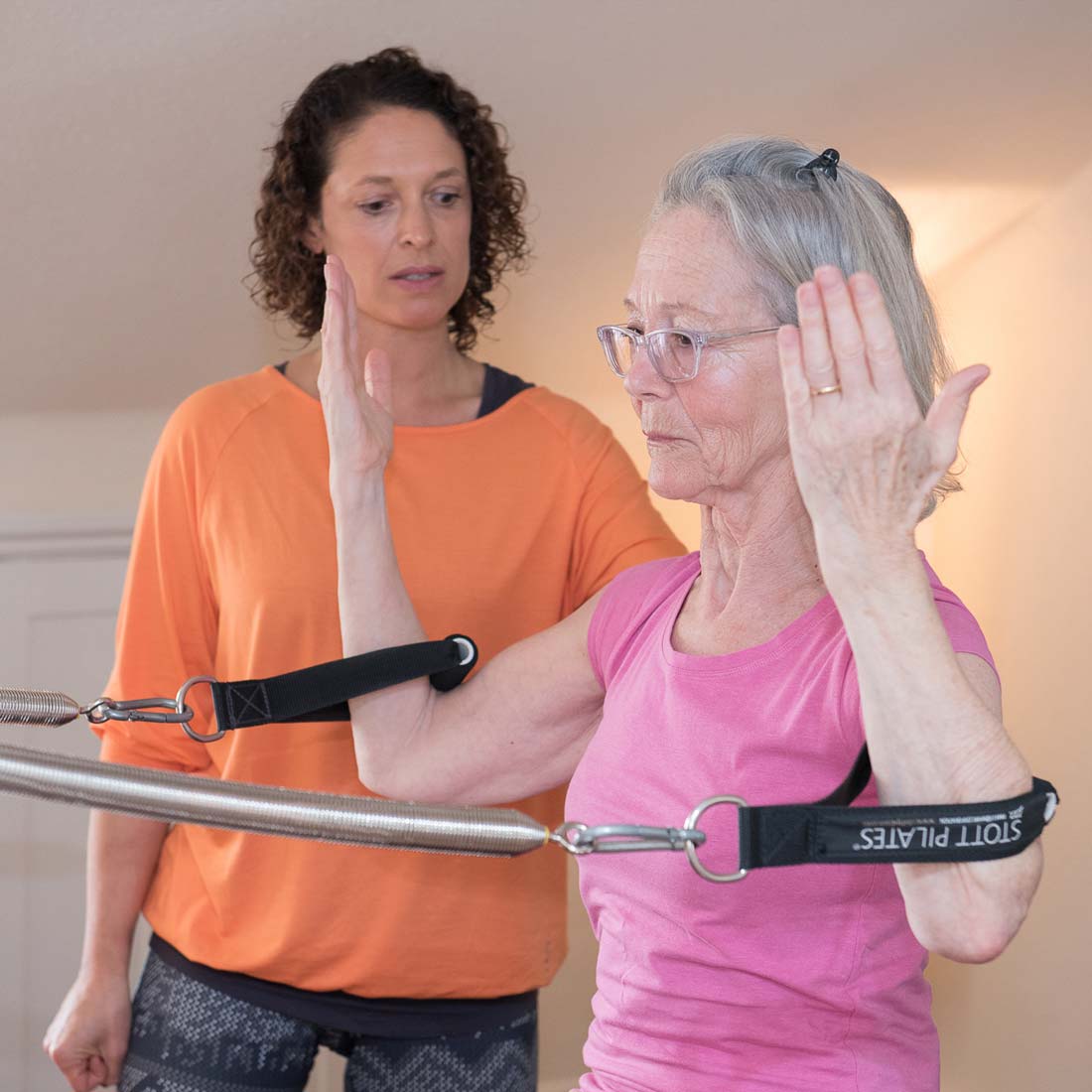 Disc Issues
I cannot speak highly enough of my Pilates sessions. They have transformed the way I think about my body and posture. I lost confidence in my body following a fall leaving me with 3 slipped discs. I felt depressed at the thought my active life was going to be curtailed. I explained my concerns and condition to my Pilates teacher who focused on core, back, balance and posture exercises. Now I am confident, healthier and have my life back again.
Penny Mitchell
Arthritis
I have psoriatic arthritis and Sogren's Syndrome, and have been coming to the studio at Purely Pilates since 2012. My energy levels are always fluctuating and my joints often very stiff, and I'm so glad to have found such an empathetic environment where the practice is so geared to helping you build your strength, posture, flexibility and stability at your own pace. My instructor is a wonderfully patient and encouraging teacher whose wide-ranging knowledge and attention to detail help me push myself toward fitness.
Evelyn M
Hip/Knee Replacements
After an accident in Greece which resulted in the above injuries, and after much rehab and physiotherapy I finally returned to Purely Pilates and explained the situation…My instructors have been so motivating, and I felt fully assured that I was in safe hands – exercises were devised and supervised to build up my strength and balance, and to give me back the confidence I had lost.
I cannot recommend Purely Pilates highly enough – they took my needs into full consideration, and I am now back on the tennis court and still continuing to enjoy the Pilates discipline!
Vicki Lywood Last
Shoulder Injury
I have been a Purely Pilates fan for many years, but the real benefits were driven home when I broke my shoulder, 'wrecked' my rotator cuff and had to have surgery. I resorted to a private physio and returned to Pilates after several post operative weeks. My initial 1:1's were a godsend from both a mental and physical point of view. My instructor encouraged me to aim high but be realistic about the rehabilitation. A meeting with the physio, myself and my PP instructor ensured we were all on the same track. Three years later and I have a nearly normal shoulder. The above shoulder range is limited but with continuing classes and occasional 1:1's the mobility is maintained and still improving. Daily Pilates exercises and classes have definitely helped me stay more mobile and flexible.
Penny Shaw
Osteoporosis
After a diagnosis of severe vertebral osteoporosis, I was concerned that practising Pilates might no longer be possible. However, the combination of small size classes and 'osteoporosis aware' instructors at Purely Pilates means that I can continue to enjoy, and benefit from, exercises to strengthen my core and maintain flexibility. Alternative exercises are always suggested for me to avoid, for example, forward flexion or spine twist under load. I feel that I am exercising in a safe environment.
Harriet Topping
Catch up classes
We know that life can sometimes interfere with your usual routine and that can mean you may sometimes miss a class or two. We offer you the option to 'swap' your class to one of our other classes. Once you enrol with us in a session you will be sent a login to our ClassSwap system.
ClassSwap can be accessed via the Home page. All we ask is that you use them up within the eight- week course.